Volcanoes of Italy - the Grand Tour
- 15-days study & walking tour from Vesuvius to Etna -
Etna volcano in eruption
Vesuvius volcano looming over the city of Naples
Complete tour itinerary - click to enlarge it!
Itinerary for the Bay of Naples region (days 1-4)
The ancient theater of Pompeii
Lunch break
This tour starts where volcanology was born: at Vesuvius volcano that destoyed the Roman towns of Pompeii and Herculaneum in 79 A.D. In a small group and guided by a volcanologist, you'll discover all active volcanoes of Italy. After 3 days in the Gulf of Naples, our discovery continues to the Eolian islands with the permanently active Stromboli, "the Lighthouse of the Thyrrhenian Sea", smoking Vulcano and Lipari, famous for its obsidian and pumice deposits. A 3-days adventure on Etna volcano, the largest and most active of Europe, is bound to be the Grand Finale of the tour that ends in style in the charming town of Catania.
All active volcanoes of Italy in one tour
Archeological highlights such as Pompeii and Herculaneum
Wonderful beaches and relaxing boat trips
Wonderfully located hotels
Delicious South-Italian food and wine
Competent volcanologist guide
Itinerary (15 days)
Day 1:

Arrival in Naples

Meeting in the evening at the hotel in the historic center of Naples. Aperitiv and group dinner in a typical restaurant in Naples' lively city center.

Acc.: hotel*** in downtown Naples (D: dinner)
Day 2:

Vesuvius volcano - Wine tasting - Herculaneum

Tour around the crater of Vesuvius volcano and walk in the Valle dell'Inferno, lunch with wine-tasting, and the excavated Roman city of Herculaneum.

Acc.: as before (Naples) (B, L, D)
Day 3:

Vesuvius Volcano Observatory - Pompeii

Visit of the historic Volcano Observatory of Vesuvius with its interesting museum and the excavated city of Pompeii & Antiquario di Boscoreale (afternoon).

Acc.: as before (Naples) (B, L, D)
Day 4:

Pozzuoli and the Campi Flegrei (Phlegrean Fields)

Day-tour to the volcanoes of the Campi Flegrei: Monte Nuovo, Lago di Averna, Pozzuoli and the Solfatara, Cape Miseno. Dinner on beach restaurant.

Acc.: as before (Naples) (B, L, D)
Day 5:

Free day - evening departure for Stromboli

Free day in Naples for own activities (e.g. museums, second visit to Pompeii etc). Optional guided visit of the historic center of Naples. Night ferry to Stromboli island.

Acc.: double cabin on ferry (B, D)
Day 6:

Arrival on Stromboli Island - hike to Sciara del Fuoco - eruption viewing

Early arrival on Stromboli, day to relax, evening climb to the

Sciara del Fuoco

to watch the eruptions.

Acc.: beach hotel*** on Stromboli Island (B, D)
Day 7:

Climb Stromboli's summit if possible - eruption viewing

Free morning. In the afternoon climb along the Sciara del Fuoco to the Pizzo (918 m), eruption viewing from close range. Descend at night.

Acc.: as before (Stromboli) (B, L)
Day 8:

Boat tour around Stromboli island & spare day

Another full day on Stromboli: boat trip around the island in the morning & visit to Ginostra village, lunch snack and free afternoon (option for additional climb to the summit craters, Sciara del Fuoco etc.).

Acc.: as before (Stromboli) (B, L)
Day 9:

Sail to Lipari Island: obsidian & pumice

Hydrofoil to Lipari island. Afternoon visit to the spectacular historic obsidian flow and pumice deposits.

Acc.: seaside hotel in Lipari (B, D)
Day 10:

Day trip to Vulcano Island: Fossa volcano and mud baths

Visit of the archeological museum of Lipari. Excursion to Vulcano island, climb of the

active crater

, visit the hot mud pools and fumaroles on the beach. Return to Lipari in the afternoon.

Acc.: as before (Lipari Island) (B, D)
Day 11:

Transfer to Etna

Boat to Sicily & transfer to Etna volcano on Sicily. Optional hike (2.5-3 hrs) to a great viewpoint in the afternoon.

Acc.: mountain hotel*** on Etna (B, D)
Day 12:

Excursion to Etna's summit craters

Full day excursion towards the

summit region of Etna

, to observe its smoking craters and

volcanic activity

if present..

Acc.: Acc: as before (Etna) (B, D)
Day 13:

Etna: Valle del Bove

Second full day excursion on Etna. An interesting option includes a spectacular hike into the giant Valle del Bove depression on the SE flank.

Acc.: as before (Etna) (B, D)
Day 14:

Lava cave - Alcantara Gorge - Taormina - Catania

Spare day, if not used for Etna we visit attractions nearby around Etna: a lava cave we can walk through, the Alcantara Gorge, Taormina with its Greek theatre. In the evening, drive to Catania where we celebrate the last night in its lively historic center.

Acc.: hotel**** in the historic center of Catania (B, L, D)
Day 15:

Departure from Catania or own tour extension

The tour ends today with transfer to Catania according to your departure time. Probably, you still have time enough to explore a bit of Taormina or the lively city of Catania itself, which offers more than enough to visit: the famous local market (especially the fish-market is spectacular!), numerous Ancient relics, baroque architecture, or simply enjoy its buzzing charm from one of the plenty street cafes.If you have more time, we recommend you extend your stay in Sicily or on the islands - options of things to do here are nearly unlimited, and we are ready to give you advice.

Acc.: none (B)
Tour code:
ITA_GTI
Tour type:
Walking & study tour: active volcanoes - nature & culture - archaeology
Difficulty:
Easy-Moderate
Group size:
6-12
Duration:
15 days (14 nights)
Dates:
13-27 Oct 2017
11-25 Oct 2019
Price (p.p.): 3590 € ?
Included:
14 nights accommodation in double room (upper mid-range category)
Most meals (breakfast + lunch snack + full dinner menu incl. wine, beer, coffee etc. in reasonable amounts)
All transports and excursions as described
Entry fees to museums, volcanoes, archaeological sites etc. as described
Volcanologist guide from our team
Tour guide:
For the Grand Tour of Italy, normally Tom will be your tour guide:
Dr. Tom Pfeiffer
(1970) is a German volcanologist with a PhD degree in geology about the volcanic history of Santorini volcano from the University of Aarhus in Denmark.
For over 20 years, Tom has been both working (at the Hawai'i and Vesuvius volcano observatories), traveling to volcanoes around the world, and organizing guided tours to volcanoes such as to Santorini, Etna, Stromboli, Kilauea on Hawaii and volcanoes in Africa and Indonesia. During his travels, he found his strongest passion in
photography
(link to his book) and the sharing of his knowledge and the living adventures outside the scientific community.
In 2004, he founded VolcanoDiscovery as a tour company, where he guides most tours in Greece and Italy as well as pilot and special eruption tours.
Other activities include a large number of articles about volcanoes published in newspapers and magazines such as National Geographic, Scientific American (April 2003 issue about Etna) and others. More recently, Tom participated in documentary film productions about Santorini ("The myth of the lost city of Atlantis", "Mystery Hunters", both on Discovery Channel) and Stromboli ("Quarks and co: Vulkane" on the German television channel WDR), and the ongoing series "
Volcanic Odysseys
" by Canadian filmmaker Michael Dalton (Love Nature & Smithsonian Channel).
Tom speaks English, Danish and Italian fluently (besides German, of course) and Greek and French with some Spanish quite well. He has spent a total of about 2 years in Italy (Rome, Sicily, Naples Volcano Observatory), a year on Santorini in Greece, as well as worked for 4 months at the Hawaiian Volcano Observatory, lived in Denmark for 7 years before moving to Athens in 2004.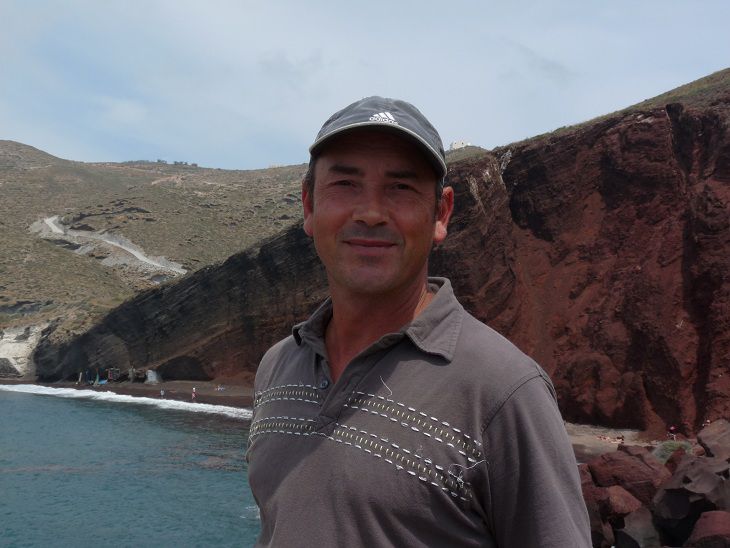 Volcanologist Dr. Tom Pfeiffer on Santorini
Arrival info:
Travel arrangements to Naples and from Catania are not included in the tour package, in order to give everybody the best chance to plan his/her trip according his preferences. Naples is easily reached by plane or train (e.g. from Rome airport or other cities). When the tour ends in Catania on Sicily, a connecting flight to the departure airport (e.g. Naples, Rome, Milan) can be easily booked for you at low additional cost. The tour can be ideally combined with a preceding or extension program in Italy, including e.g. visiting cities like Rome, Florence or spending more time on Sicily or one of the islands. We will be happy to make suggestions and can help you with such travel arrangements, as well as assist you with your international travel to Italy.